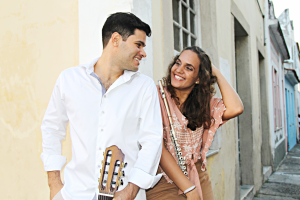 Festival with presentations of students, teachers and 2 special guests from Bahia Brasil: Marcelo Rosario (7 cordas) and Morgana Moreno (flute)
More info about them below.
Spring is here! Come to Grounds with the whole family for a wonderful Brazilian afternoon and evening.
With a concert of our special guests from Salvador Brasil, presentations of pupils and teachers of EPM Holanda and Capoeira Berimbau de Ouro, jam session and of course delicious authentic Brazilian food (dinner reservations!)
Teachers EPM Holanda:  (Elizabeth Fadel (piano), Udo Demandt (percussion), Alvaro Rovira Ruiz (guitar), Bill Davison (flute), Kees Gelderblom (guitar), Hassan Ait Moumad (bass), Marijn van der Linden (cavaquinho) Rafael pereira Lima (sax) and Magda Mendes (vocals)
Program
Grote zaal
15:00 Choro and Samba Presentations
17:30 Capoeira Presentation
18:00 Pause with Film (Documentary about Choro Music)
18: 45-20: 15 Concert Mracelo and Morgana and EPM Holanda teachers
Grounds Café
20: 30-22: 00 Roda de Choro (acoustic)
Delicious food by Bom sabor do Brasil: from 15:00 Brazilian snacks (not included with the tickets price) and from 17:30 Brazilian Dinner (not included with the tickets price)
Marcelo Rosário:
Extremely versatile young musician, began very early in music playing the piano, bass, percussion and cavaquinho, before deciding to play the guitar, at age 15. Studied for 4 years in EBCRR Institute – Clube do Choro (DF). At still a young age, he became a specialist in Brazilian music, focusing on Samba, Choro Music and typical Brazilian 7-string guitar. Performed on great Brazilian stages such as Teatro Nacional de Brasília (DF), Teatro Rival (RJ), Teatro Guaira (RJ), Clube do Choro of Brasilia (DF), and performed also in Germany, Netherlands, France and Switzerland. In 2013 he won the 1st prize at the International Competition Leopold Bellan in Paris, in duo with Morgana Moreno. He joined as guitarist and arranger in the Classica Brasiliana project, playing a concert season in festivals in Germany and recording CD, released by German label Dabringhaus und Grimm. In April 2015 he participated in Paris, along great musicians as Gabriel Grossi and Gabrielle Mirabassi, in the "K-rio-K" Musical, written by french journalist Remy Kolp  Kopoul. He studied World Music at Codarts, Rotterdam, where he got a full scholarship and teached at the Choro School "EPM Holanda". At the moment he's living and working in Salvador da Bahia.
Morgana Moreno
Flutist and composer, born in (*1990) Salvador, Bahia, Brazil. Though young, the musician already stands out for her authenticity, own language in construction of melodies and improvisations as well as her expressive sound, results of her contact with different musical styles such as Choro Music and Brazilian genres, Classical, Jazz and Improvised Music.
From an early age, the young musician has been an active artist in the musical scenery of Salvador. Specialized in Choro Music, still one of her main influences, she also worked with renowned Os Ingênuos. Versatil, she has played with the greatest orchestras in the state of Bahia: YOBA/Neojibá, OSBA and OSUFBA, as flutist, piccoloist and soloist.
Her trajectory includes Best Instrumental Music prize with her composition Baião at the Festival da Educadora FM 2014 (Salvador, Brazil) and 1st Prize at the International Competition Leopold Bellan 2013 on World Music/Jazz category (Paris, France). She got a Bachelor Degree in Music/Flute by Federal University of Bahia (UFBA) in 2012 and a Master Degree of Music/Jazz Flute by Hochschule fur Musik und Tanz Köln in 2016.