SUPPORT US AND MAKE YOUR DONATION HERE!
EVERY LITTLE SUPPORT HELPS
Party!
The tenth edition of this unique festival in Europe will again take place in the culturally rich Delfshaven district in Rotterdam! This edition is all about Forró, samba and choro, so that means dancing!
On Sunday 4 December concerts by top artists, presentations by students and teachers of the Brazilian music school EPM Holanda and Capoeira Berimbau de Ouro and tasty authentic Brazilian food!
Concerts at the festival:
Album presentation "Chorando em Rotterdam" by teachers EPM Holanda
Forró & samba with special guests:
Ivan Greg (BR) – accordion and vocals
Cleyton Barros (BR) – Zabumba and vocals
Femke Smit (NL) – vocals
Marcelo Leite (BR) – flute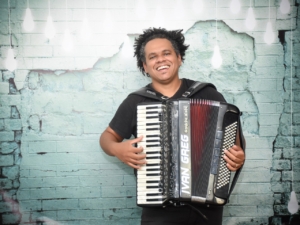 Ivan Greg: https://www.youtube.com/watch?v=PfbK1DH2MqU
https://www.youtube.com/watch?v=59ag6YbvxU4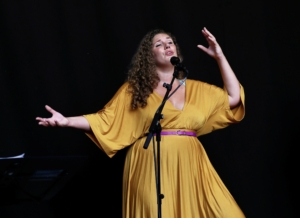 Femke Smit: https://www.youtube.com/watch?v=DhakSbg-hN0
Link to Chorofestival 2021 online: https://www.youtube.com/watch?v=ESyWiXOaNJI&t=9155s
Reserve your diner: dinerchoro@hotmail.com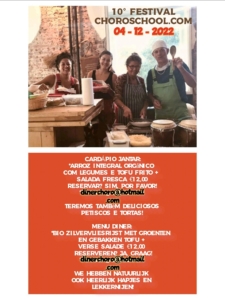 PROGRAM
14:30 Doors Open
Main hall
15:00-15:15 Beginners ensemble and kids
15:15-15:20 Grace theory group
15:20-15:40 Intermediate ensemble
15:40-15:50 Vocal groups
15:50-15:55 Piano and cavaco beginners
15:55-16:10 Samba lesson Kees
16:10-16:30 Kids groups: guitar and piano
16:30-16:35 Yasmim Brazilian art for kids presentation
16:35-16:45 bandolim group
16:45-17:00 Advanced ensemble
17:00-17:15 Minors codarts
17:15-18:15 Teachers in Concert: album "Chorando em Rotterdam"
18:15-18:50 break
18:50-19:00 Batucada
19:00-20:00 Set 1 Forro and samba with profs and special guests Femke, Ivan, Cleyton and Marcelo
20:00-20:20 Capoeira demonstration
20:20- 21:30 Set 2
21:30- 22:00 Bis?
Kleine zaal en A001:
kids  playground
Teachers EPM Holanda Elizabeth Fadel (piano), Udo Demandt (percussion), Alvaro Rovira Ruiz (guitar), Rafael Pereira Lima (sax), Angelo Ursini (flute en clarinet), Kees Gelderblom (guitar), Juliano Abramovay (guitar), Hassan Ait Moumad (cavaquinho/bas), Marijn van der Linden (cavaquinho), Magda Mendes (vocals), Ronald Veerman (bandolim) Yasmim Flores (art for kids) en Zé Malandro (percussion)
Choro Festival is organized by the Brazilian music school EPM Holanda in collaboration with GROUNDS and it was made possible in part by the Municipality of Rotterdam, Elise Mathilde fonds, Berimbau de Ouro Capoeira School, the SKVR, Bom Sabor do Brasil, Codarts, Jeugd Cultuur Fonds, Mesa de cultura, Withagen Media and Creative Flavors.
Instagram: https://www.instagram.com/choroschool/
Facebook: https://www.facebook.com/EPMHolanda
Donations are more than welcome!!!!
Donations can be made by the following ways: