9th Choro Festival 
STUDENTS SCROLL DOWN TO CONFIRM YOUR PRESENCE!!
Sunday December 12 2021
Party time!?
Just like 2020, 2021 is a "special" year and therefore also a special edition of our annual Brazilian Choro Festival. This 9th edition of this unique festival will again take place in the culturally rich Delfshaven district in Rotterdam and taking all COVID measures into account, we are still having a party! Only without live public…
A full day of concerts and presentations by our teachers, students and special guests of the Wiener Choro Ensemble (Austria/Brazil)
Wiener Choro Ensemble:
Antônio de Padua (musical direction, trumpet, 7 strings guitar, cavaquinho, percussion) – Roberta Karin (percussion) – João Vitor (flute) – Marco Antonio da Costa (7 strings guitar & cavaquinho) – Daniel Mesquita (6 strings Guitar)
https://www.youtube.com/watch?v=GfbJ1tQ7rrI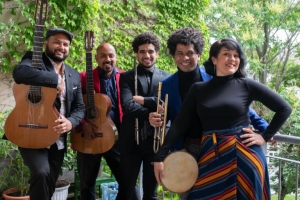 Enjoy yourself at home from the comfort of your couch, bed or sofa: We also stream the whole day online!!
Stream on our YouTube channel and Facebook page.
Link to YouTube stream: https://www.youtube.com/watch?v=ESyWiXOaNJI
Teachers EPM Holanda Elizabeth Fadel (piano), Udo Demandt (percussion), Alvaro Rovira Ruiz (guitar), Rafael Pereira Lima (sax), Angelo Ursini (flute and clarinet), Kees Gelderblom (guitar), Hassan Ait Moumad (cavaquinho/bass ), Marijn van der Linden (cavaquinho), Grace Chi (piano), Mirre Valkenburg (vocals), Magda Mendes (vocals) Juliano Abramovay (guitar) and Yasmim Flores (Brazilian art for kids)
*Food by Bom sabor do Brasil
For all players on the festival: You can pre-order Brazilian snacks and dinner for consumption during festival in Grounds.
https://forms.gle/17fCrGLtqwTJA3WQA
Email: contact@bomsabordobrasil.nl.
Whatsapp: +31 6 48218089
Choro Festival is organized by the Brazilian music school EPM Holanda in collaboration with GROUNDS and it was made possible in part by Stichting Droom en Daad, Municipality of Rotterdam, Elise Mathilde fonds, Volkstheater, our donors/amigos and Grounds and our partners Bom Sabor do Brasil, Berimbau de Ouro Capoeira School, Codarts, TSP Wave and Creative Flavors.
Program CHORO FESTIVAL 12 December 2021
On stage Grote Zaal
Times incl setup/linecheck/get ON/OFF stage
40 seats
11:00-11:15 Beginners ensemble (3 songs)
11:15-11:20 Grace theory group
11:20-11:40 semi ensemble Angelo (2 songs)
11:40-11:55 semi ensemble Alvaro (2 songs)
11:55-12:00 cavaquinho group (1 song)
12:00-12:20 KIDS (flute/guitar/piano)
12:20-12:35 Brazilian art kids Yasmim/Capoeira
12:35-12:55 Magda's vocal groups (2 groups on stage, 1 online, 3 songs)
12:55-13:00 Accordion and piano
13:00-13:20 Etienne Clement: palestra/reading
13:20-14:20 Concert: TEACHERS EPMH
14:20-14:35 gevorderd ensemble 1 (2 songs)
14:35-15:00 Minors choro Codarts (2 songs)
15:00-15:20 Kees samba groep (2 songs)
15:20-15:30 extra time
15:30-16:30 concert special guests: WIENER CHORO ENSEMBLE
Kleine zaal
20 seats: screen online stream
A001 10 seats  Roda de choro???
A013 Kids room
A014 instruments/cases
Entrance on 12th of December is free of charge, but donations are more than welcome.
Donations can be made by the following ways:
ATTENTION!!!!!!!!!!!!!!!!!!!!!!!!!!!!!!!!!!!!!
As you know there is a limited space in the main hall (40 seats) and 20 seats in the small hall where you can follow the live stream on a screen. We have over 40 players/students/artists so we count on your cooperation to give each others also the opportunity to see a live presentation. PLease don't occupy the same seat during the whole festival.
In this form you confirm your presence, and can give your preference for a seat in the main hall during concerts. As said before it's no guarantee, we will make a selection! If you can see the concert of Wiener Choro klub on saturday it would be nice if on sunday you take the "screen" seat in the small hall.
We hope for your understanding!